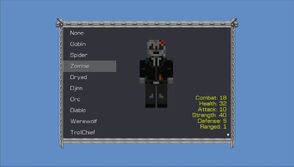 Zombies are mobs that were added into the game in the 1.8 update, along with the Survival Mode. They are a hostile aggressive mob that will attack the player on sight.Their default combat level is 18 currently.
Zombies will only spawn during the night, and will de-spawn in the day. They will begin sinking into the block below when the sun comes up. 
Behavior/Tips
Edit
Zombies don't require much (if any) strategy to be defeated. But can often be backed up by other mobs, such as the Werewolves, Goblins, Orcs, Troll Chiefs, or other Zombies.
Make sure that you are dealing with one at a time, since taking on several can be a challenge without decent armor and food.
"Zombies" Combat Levels
Health 32
Attack 10
Strength 40
Defense 5
Ranged 1