Welcome to the Total Miner Wiki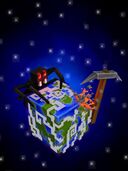 This Wiki is all about
Total Miner
, the
Xbox Live Indie Game
,

Total Miner is one of the most powerful creative voxel sandbox games, Build epic creations using creative tools like Copy & Paste. Build Component Libraries to use in other maps, or share online. Use circuitry to bring your maps alive. Level your character with Runescape style skills. Enjoy a Minecraft-like survival mode. Find out why Total Miner is the best selling Xbox Indie Game of all time.

Total Miner started off as a Xbox Live Indie Game developed by Craig Martin, founder of Greenstone Games. It is a block-building sandbox game that draws inspiration from Minecraft, Miner Dig Deep, the Total Miner community, as well as his love of Sandbox games and technical interest, at the end of 2019 the games development was handed over to some members of the community to continue it's growth on the PC market place.
Since its creation many fans have contributed to game with both content and ideas. All specific names can be found in the game credits on the main menu of Total Miner.

Creative Tools: Fill and Clear large areas in one operation. Replace blocks or textures over large areas quickly. Have the game build lines, paths, walls, sphere's and forests for you. Flood large irregular spaces with any block using the painters algorithm. Copy and paste parts of your world or save parts as components for use later or in another world.
41 Full length Music Tracks - Over 3.5 hours of music. 25 different Texture Packs built into the game, both SD (16x16) and HD (64x64). 74 inbuilt Avatars and NPCs models. Fully customizable behaviour and dialog trees for NPCs. 234 unique Blocks. 338 unique Items. 410 Items or Blocks can be Crafted, Smelted, Smithed or Cooked.
Built in Script language and editor with full help documentation and examples: Automate manual tasks, create quests, mini games, boss fights, almost anything you can imagine with this powerful scripting tool. Can also be used by the NPC behaviour and dialog trees.
Zones: Wrap zones around areas of your world to protect them or set custom properties. Permissions: A powerful set of player permissions to control who can do what and where.
Player Skills (Optional): 16 different player skills. Gain XP by doing activities. Raise your skills to gain access to better items.
Particle Emitters: Create animated effects using 3D particles. WIFI Power: Create powered logic circuits using WIFI. Farming: Sow your crops and reap their harvest. Use the harvest to cook better food. Day/Night/Season cycle, wind animated flora and animated liquid physics for water and lava. Take photos of your creations with the Camera item and store them in your album.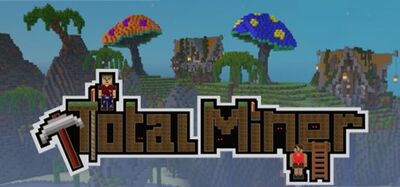 Total Miner News
 Add some news

Total Miner Continued Development
Wiki News
Add some news

June 21, 2022

Marine2oorah4u becomes the new bureaucrat for the wiki

June 21, 2022

Nyan-Mining becomes a new admin for the wiki

December 19, 2019

Development continues under new guidance

June 06, 2019

TM Steve released the official Discord server

Dec 23, 2017

March 22, 2015

Clerical and Odin Aumar have become admins!

 July 10, 2012

This Wiki has promoted HealableMarrow4 as its new bureaucrat.

 April 27, 2012

Dan67 has become a new admin.

 April 18, 2012

This Wiki has assigned a new admin, HealableMarrow4.

 December 17, 2011

The Total Miner Wiki's new admins: KingFredrick VI and Minerman (were later promoted to bureaucrats).