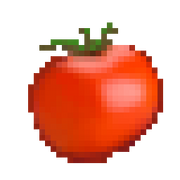 Tomatoes
are a
Consumable
ingredient, used mainly in cooking
Pizza
, or for an extremely low health source.
It has a heal power of 3 points, meaning it would take 50 tomatoes to fully heal a player (skills off, out of 148 HP).
Description
Edit
In-game description: "Tomato. I think we know what these are. Oh wait, did you know Tomato is a Fruit? If you eat a salad of tomatoes, avacado, capsicum, or chili peppers, you are in fact eating a fruit salad. Yes, I kid you not, really, it's true, I think..."
Cooking Pizza
General health restoration.
How to Obtain
Edit
Break long grass until you recieve tomato seeds, then plant them on farmland next to water to grow tomatoes.
A Tomato can be purchased for 36 and sold for 30 at an Item Shop.
Community content is available under
CC-BY-SA
unless otherwise noted.