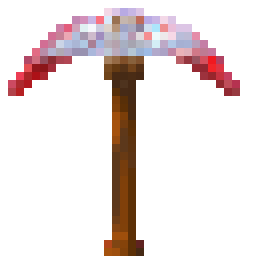 The Ruby Pickaxe is a high tier pickaxe that is tipped with Ruby Gemstones. It is stronger than the Diamond Pickaxe, but weaker than the Titanium Pickaxe. It can mine through the granite and komatiite layer.
In-game description: "A diamond pickaxe at it's core, but the blade is tipped with ultra hard rubies. It is crafted from 1 diamond pickaxe and 2 ruby gemstones."
General Stats

Class: Ruby
Power: 1000
Max Resistance: 5800
Durability: 3000

Attack Stats

Damage: 6
Reach: 1.50
Speed: 0.27
Delay: 0.00

Skill Stats
Community content is available under
CC-BY-SA
unless otherwise noted.