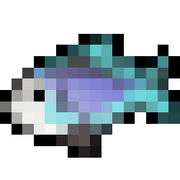 Raw Fish can be cooked into Cooked Fish in a Furnace.
Cooking/Smelting 50 Raw Fish will contribute towards unlocking the Chef Avatar Skin.
It can be purchased for 300 Gold Pieces and sold for 250 Gold Pieces at the Item Shop.
Description
Edit
"A bit smelly. Not edible. Cook it in a furnace."
How To Obtain
Edit