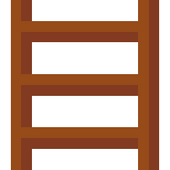 Ladders
are used as transportation when a player wants to move up and down safely. They must be placed against solid blocks for it to be used.
Ladders are not solid, defining that ladders will not block a player's path while walking though it.
Ladders can only be constructed at a workbench with 7 sticks, arranged as the letter "H" to result 4 ladders. They can also be purchased at the Block Shop for 70 gold pieces each.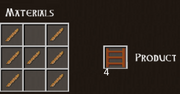 To use ladders efficiently, place ladders every other block vertically. This will significantly reduce the quantum (amount) of ladders place each block, by half.
Leaving two consecutive spaces between ladders will require the player to jump from each ladder to the next, however saving a 2/3 amount of ladders than placing ladder on each block.
Ladders may cause a glitch/bug where the player is stuck in a block.