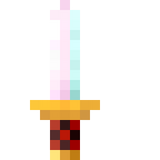 The Diamond Sword is a semi-high tier sword that is made out of Diamond Gemstones.
Description
Edit
"This is the ultimate sword. Extremely hard and will last twice as long as a steel sword."
How to Obtain
Edit
Crafted with 2 Diamond Gemstones in the second and fifth slot, along with a Stick in the eighth slot in a Workbench.
Stats and Bonuses
Edit
General Stats

Class: Diamond
Power: 900/5400
Durability: 2200/2200

Attack Stats

Damage: 25
Reach: 3.90
Speed: 0.40
Delay: 0.00

Skill Stats

Use Requirements: Attack 40
Use XP gained: 3
Craft Requirements: Smithing 44
Craft XP gained: 14.32

Stat Bonuses

Health: 0
Strength: 50
Attack: 80
Defense: 50
Ranged: 0
It is the first sword tier that can be used to destroy Spider Eggs.
It is the first sword tier that has a Looting stat bonus
Despite it's description, the "ultimate sword" is actually the Titanium Sword, and likely says this due to it previously being the most powerful sword.