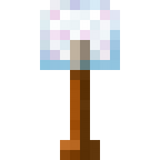 The Diamond Shovel is the highest tier shovel that is made from Diamond Gemstones.
Description
Edit
"This is the ultimate shovel. Extremely hard and will last twice as long as a steel shovel."
How to Obtain
Edit
Crafted with three Diamond Gemstones in the 2nd, 4th, and 6th slots, and Sticks in the 5th and 8th slots in a Workbench.
Stats and Bonuses
Edit
General Stats

Class: Diamond
Power: 900/5400
Durability: 2000/2000

Attack Stats

Damage: 5
Reach: 1.80
Speed: 0.32
Delay: 0.00

Skill Stats

Use Requirements: Digging 40
Use XP gained: 3
Craft Requirements: Smithing 42
Craft XP gained: 13.76