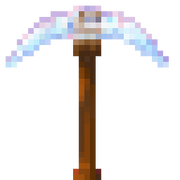 The Diamond Pickaxe is a semi-high tier pickaxe that is made from diamond gemstones. It can mine through the gabbro layer. It is stronger than the greenstone gold pickaxe, but weaker than the ruby pickaxe.
In-game description: "This pickaxe is extremely hard and can mine most of the deeper hard rock and all precious ores. It will last twice as long as a steel pickaxe."
The diamond pickaxe is used in the following crafting recipes:
General Stats

Class: Diamond
Power: 900/5400
Durability: 2000/2000

Attack Stats

Damage: 5
Reach: 1.50
Speed: 0.27
Delay: 0.00

Skill Stats

Use Requirements: Mining 40
Craft Requirements: Smithing 40
The diamond pickaxe's blueprint spawn range (1152 to 1767) is shallower than the greenstone gold pickaxe's blueprint spawn range (1364 to 1978), meaning you will likely find the diamond pickaxe first.
Community content is available under
CC-BY-SA
unless otherwise noted.